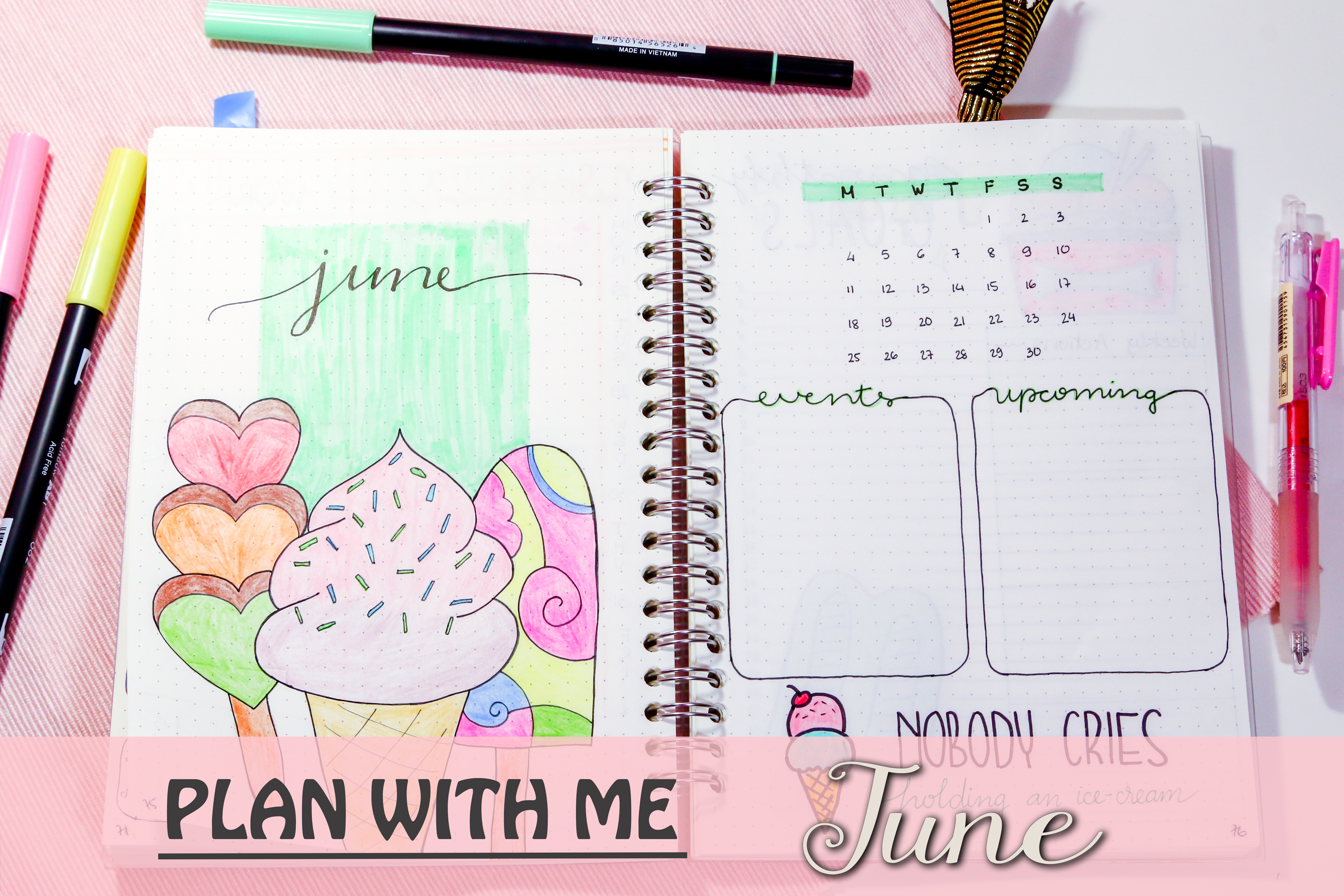 Hello, and welcome back to another plan with me – June 2018 bullet journal setup post.
I seriously don't know where May has gone, but I'm very excited that June is here, aka summer has officially started. And to mark the arrival of summer, I think the most suited theme for June 2018 bullet journal setup is ice-cream. Don't you agree? With that being said, here I am, with six summery refreshing new pages to share with you.
THIS POST CONTAINS AFFILIATE LINKS. PLEASE READ MY DISCLOSURE FOR MORE INFORMATION.
Before we get onto my June 2018 bullet journal setup, I just want to remind you that I recently published the Bullet Journal Free Printables page where I share some of my bullet journal creations. They are very helpful and totally free to download, so don't forget to check out the page.
Now, let's get back to this month setup.
For my June 2018 cover page, I decided to draw three giant ice-cream/popsicles which are inspired by some popsicle doodles I saw on the internet. Behind the three popsicles is a mint-colored rectangle (Tombow dual brush pen in #243). It acts as a background for the word "June" to lay on. Then, I colored the ice-cream using Crayola colored pencils.
To the right of the monthly cover page, I set up the month-at-a-glance. This is rather a new layout that I just started to incorporate into my bullet journal last month. So far, it has been perfect for the number of tasks and events I usually have within a month. To use this layout, I highlight the date when the event occurs and note what it is in the "Events" column. The "Upcoming" box is for anything that is happening next month.
Moving on, I have the Monthly Goals. On the left portion of the page, I will write down all the goals I want to accomplish in June. On the right portion, I drew four boxes of "Weekly Actions" in which I will jot down specific tasks or actions I need to do every week to reach my monthly goals.
A Happy Line page is just my version of the Gratitude Log. It's a page for me to note what makes me happy that day and look back on them later on. I used Crayola Super Tips markers to color in the word "Happy". A free printable of it is available here.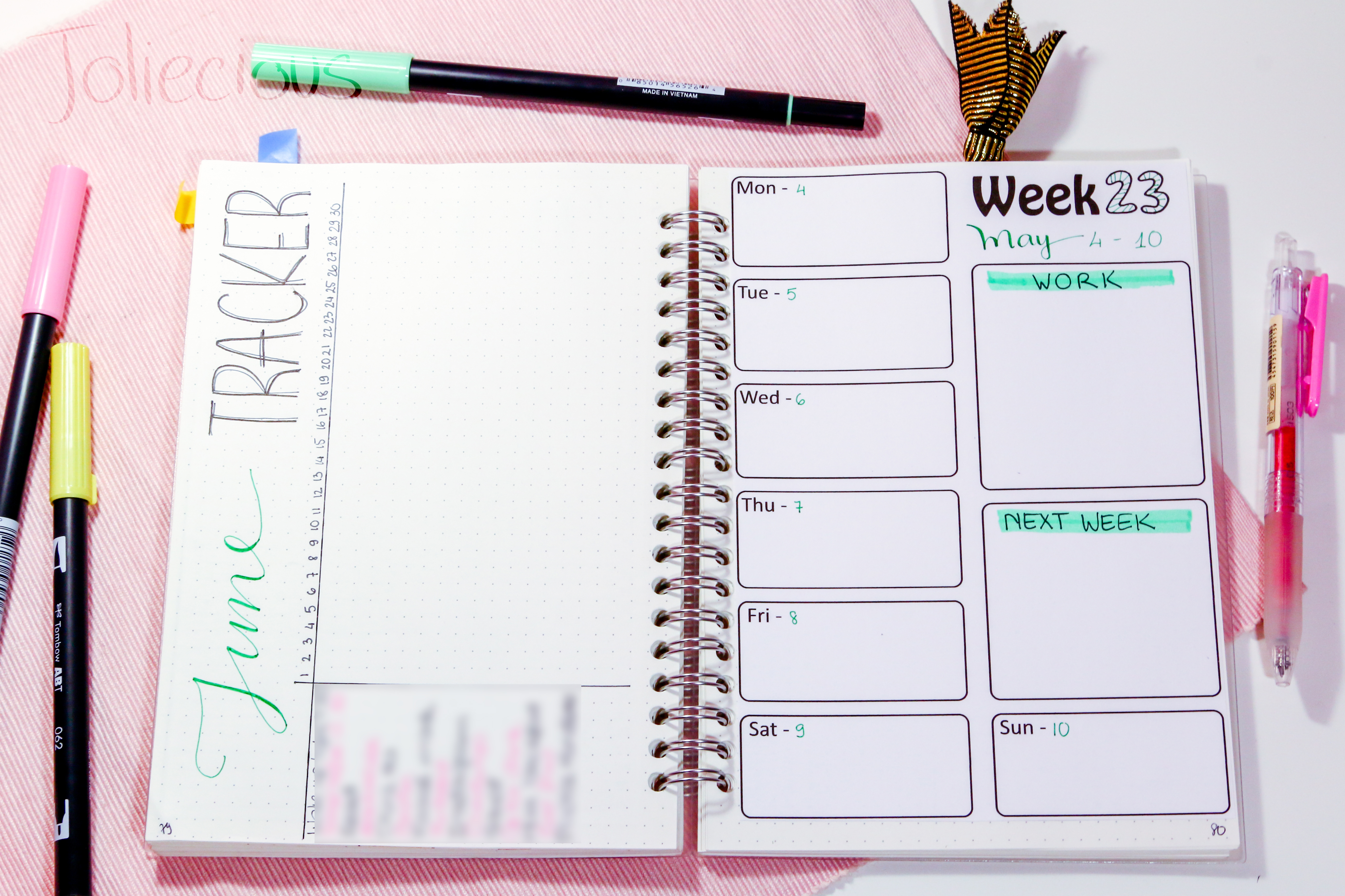 The last two pages of this month bullet journal setup are the June Habit Tracker and the weekly spread for the first week of June. Unlike all the over-the-top habit tracker designs I did for the previous months, I opted for a simple and traditional habit tracker this time. It was quick and easy to set up. And I can also track quite a lot of habits.
My first weekly spread setup is pretty simple but it serves its purpose. If you like this minimalist setup, you can download a free printable here.
That is it for my June 2018 Bullet Journal Setup. I hope this post can give you some new ideas and inspiration to use in your own bullet journal. I'd love to know which page is your favorite in this June setup. Please, leave me a comment below. And, see you next time!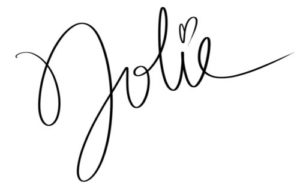 Follow