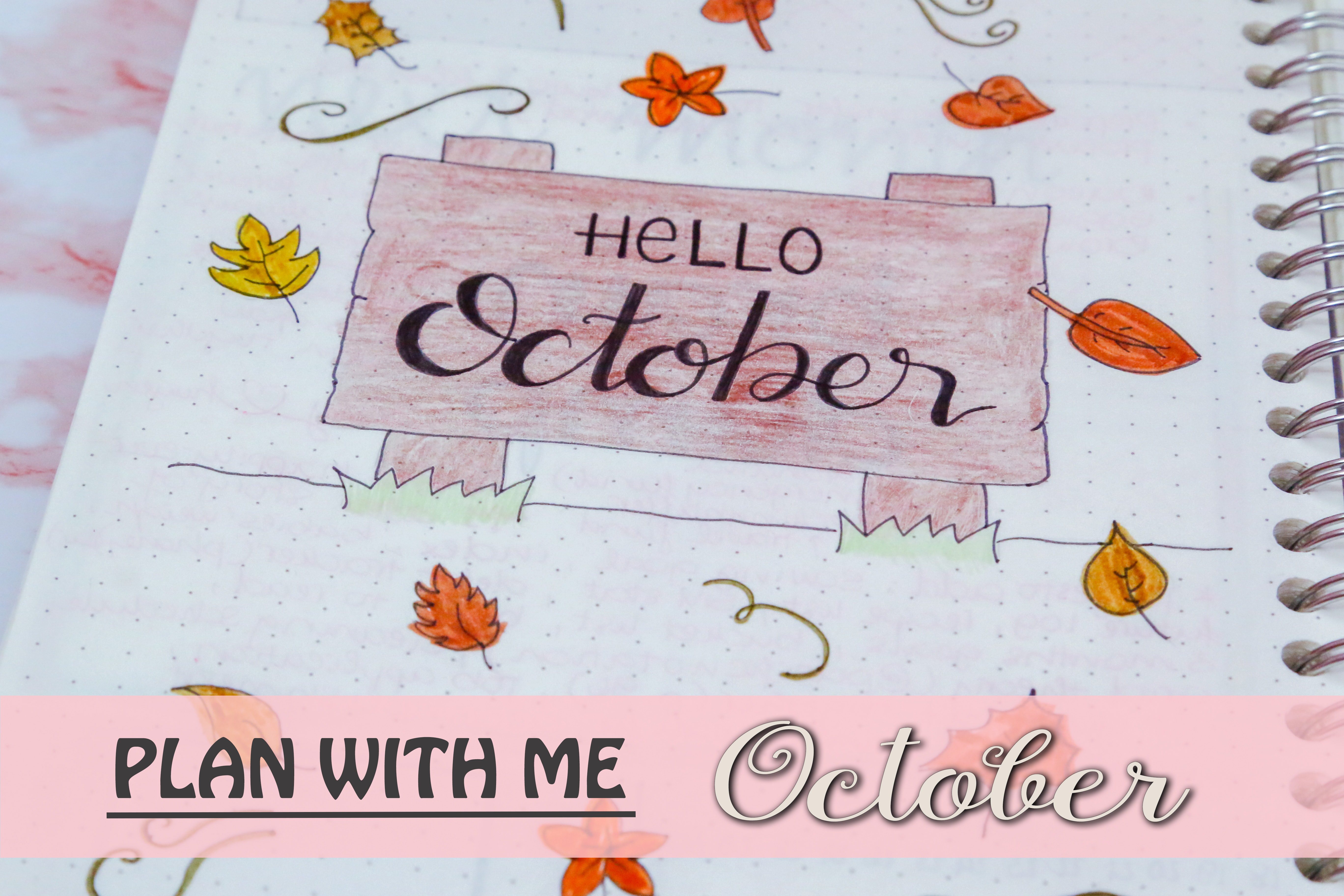 Guess what?! It's time for the October 2018 Bullet Journal Setup.
I feel ultra-productive this month because I set up my bullet journal early and have this post up a week before October arrives. I'm usually late with my Monthly Bullet Journal Setup, but I'm trying to do better!
October 2018 will be the last month I set up in my 3rd bullet journal. It's crazy to realize that I've gone through three bullet journal notebooks and how my style has changed so much after all this time. For me, it always feels like my bullet journal journey just started yesterday. I will be setting up my 4th bullet journal and sharing how it turns out with you guys in my next post.
Back to what you are here for: the Fall-inspired October Bullet Journal Setup.
Make sure you read till the end of this post to access the download link for my Fall-inspired bullet journal printables.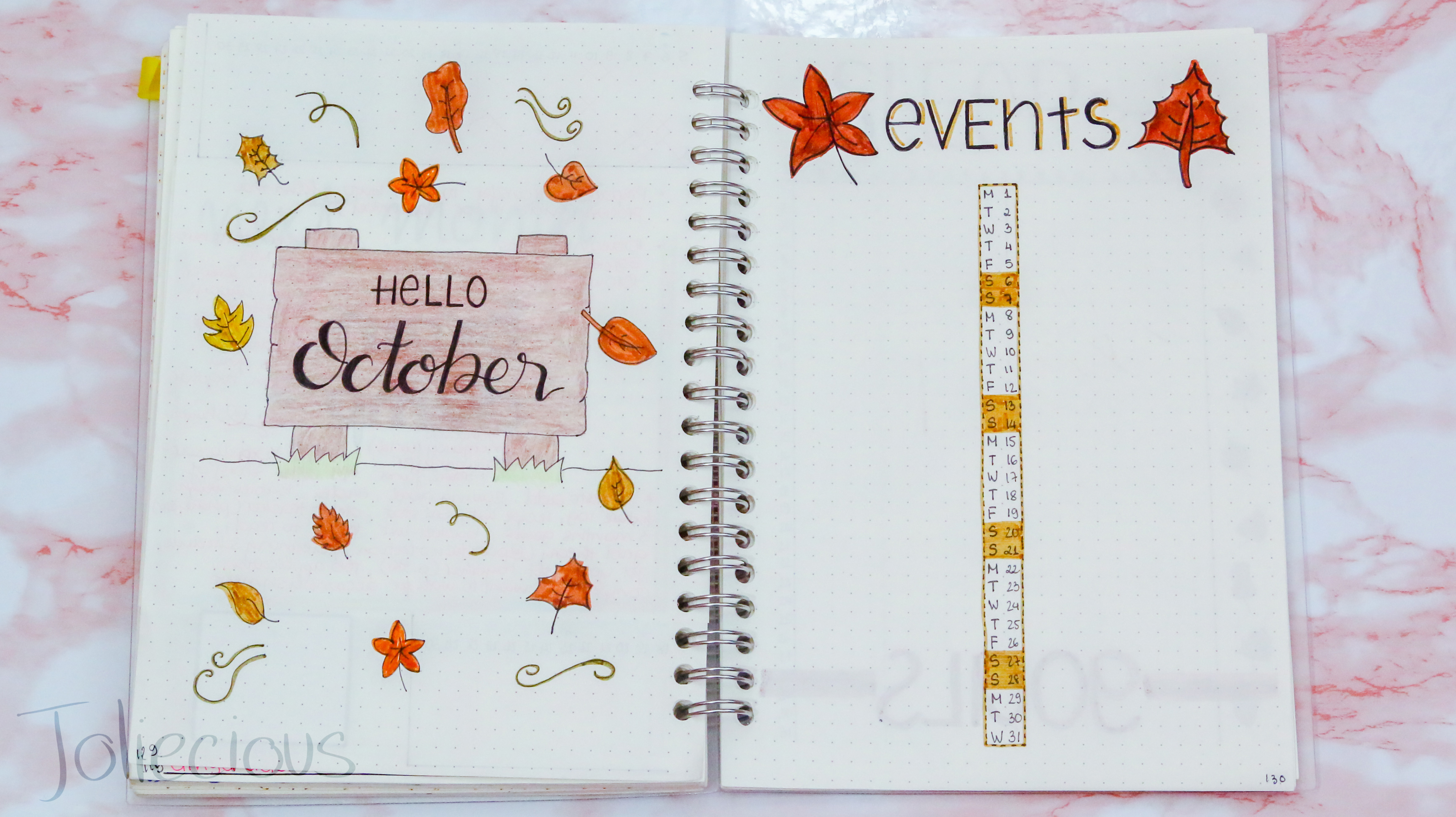 As you can see here, this month's theme was inspired by the falling leaves and the colors of Autumn. Fall is probably my favorite season because of the sweater weather and because I can finally rock my favorite dark and bold lip colors. You can check out my top 5 Fall lip colors for last year here.
Anyway, for the Cover Page of this month, I created a wooden sign as the centerpiece for the page. I also added falling leaves and some swirly doodles to resemble the wind. I colored the leaves with various shades of brown and orange. If you want to be matching with me, there is a free printable of this page at the end of this post.
Next is my usual Monthly Spread. Nothing new here! I think I've found my favorite Monthly Spread layout which works perfectly for me. To keep the theme consistent, I drew 2 leaves at the top of the page.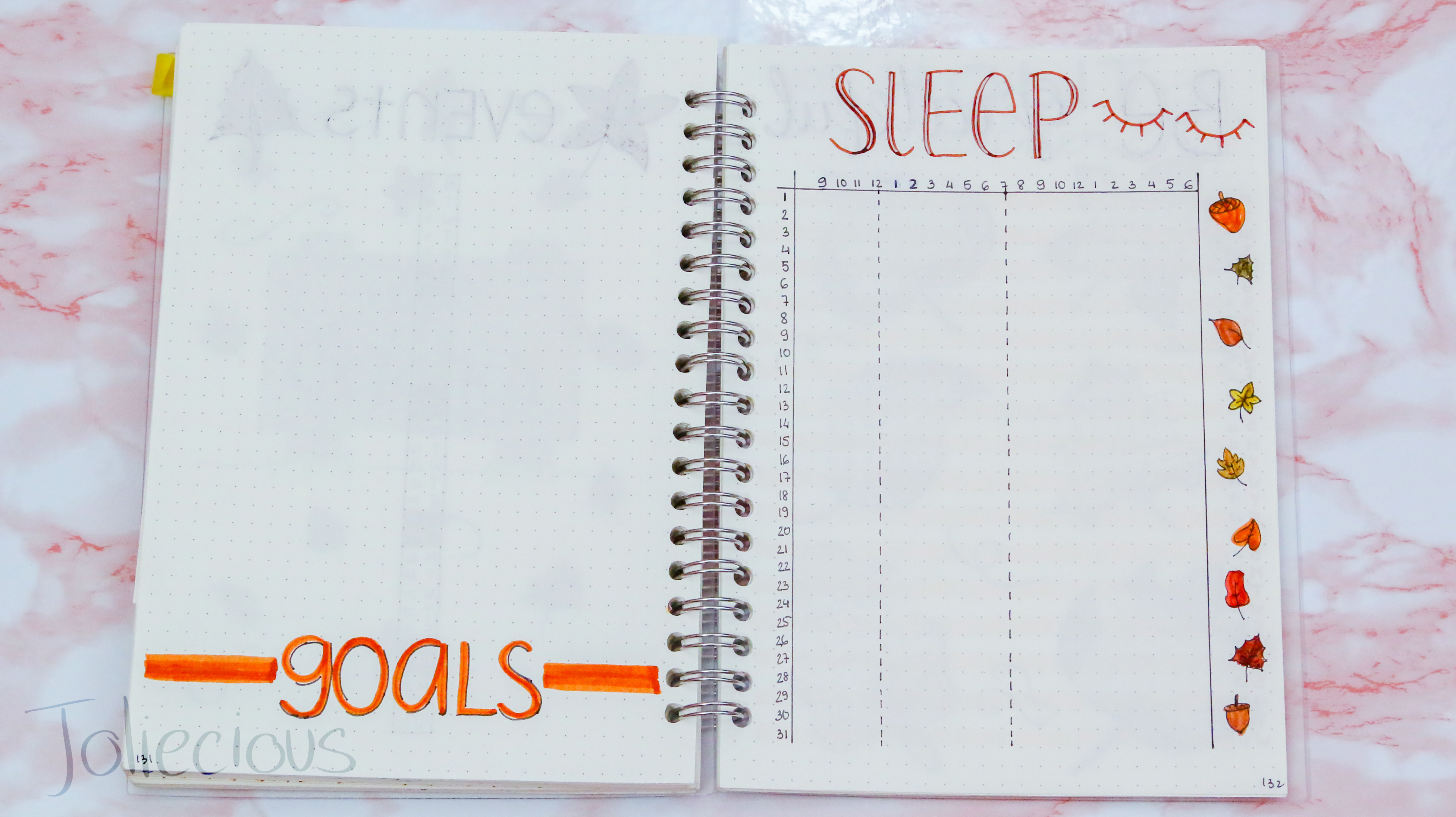 Turning the page, we have my Monthly Goals. This page is super simple but it serves its purpose. I usually divide my goals into Professional, Personal and Blog. I didn't write down anything when I was setting this up but I will do it at the end of September.
The page next to it is the Sleep Log where I track when I go to sleep and wake up, and how many hours I sleep a day. I'm still experiencing different layouts for this page. Although I'm not 100% satisfied with this setup, it will work for now. If you have any suggestions, let me know in the comment area.
The Gratitude Log is a stable in my bullet journal setup. It's just something I love to write down at the end of the day. It makes me happy and reminds me to be thankful for everything I have, even to the smallest and simplest things.
For October 2018 Bullet Journal Setup, I decided to try something new with my Habit Tracker. Instead of my usually horizontally layout, I will be tracking each of habits individually. I created 6 different types of leaf for 6 habits. Then, I cut out some calendars and stick them on top of the leaves. I realized that I don't need to track too many habits so this layout is perfect for me.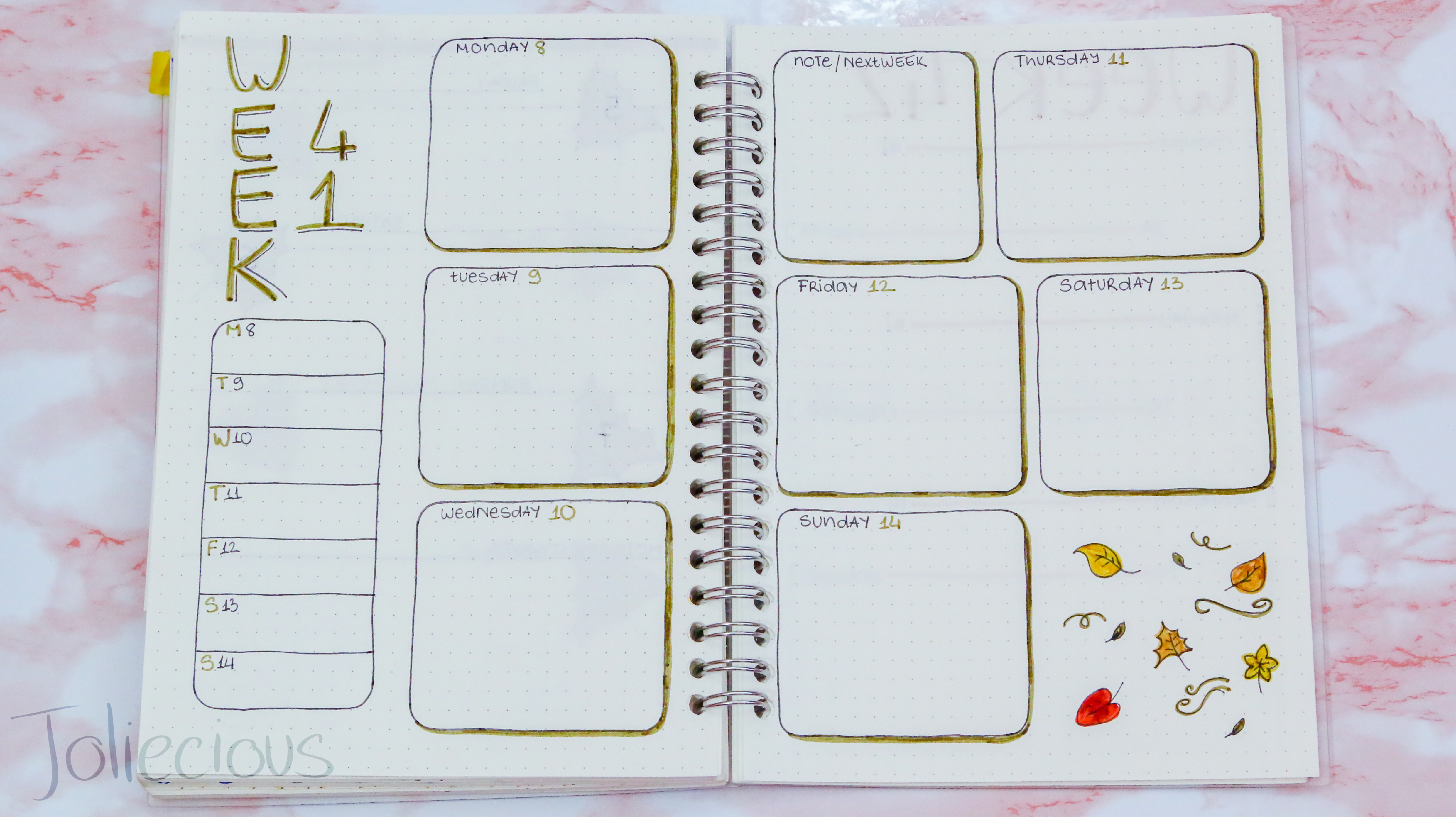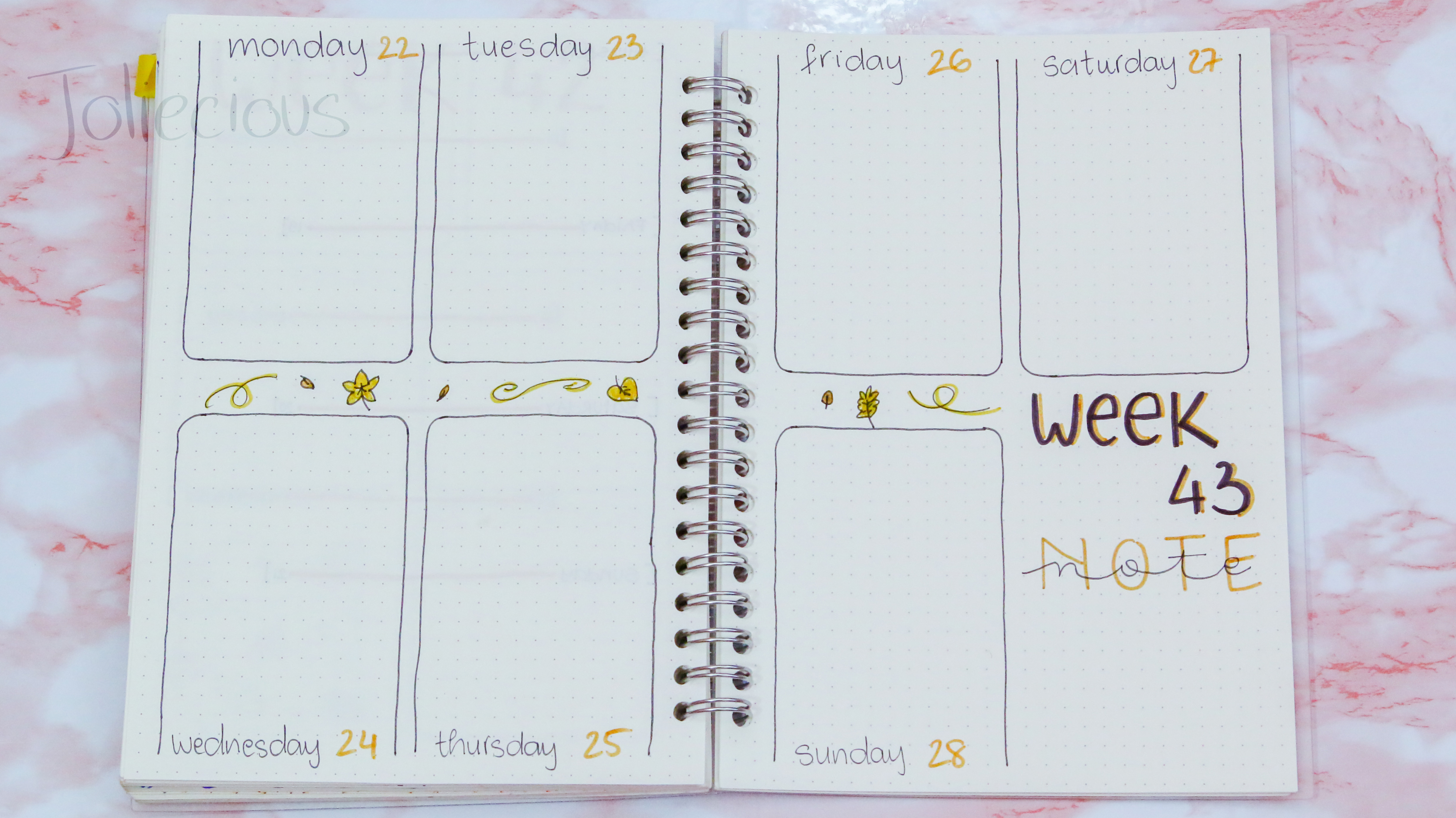 Lastly, we come to the Weekly Spreads of the month. I love to set up all the weeks in advance so I can easily plan my month ahead of time. I set up each week differently to give you some ideas and inspirations on how to set up your weekly. To carry on the theme, I used the same color scheme and doodles.
As promised at the beginning of this post, here are the links to download my Fall-inspired Cover Page and Stickers for October. I had a lot of fun creating these and I hope you'll love them too.
Colored falling leaves stickers
Black-and-white falling leaves stickers
October wooden sign
My favorite page of this month setup is the Habit Tracker. Let me know what your favorite page is and what theme you are using for your October setup in the comment section. Thank you for reading and see you next time!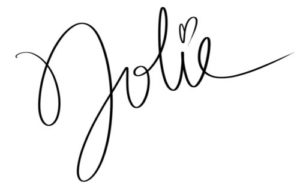 Follow