Guess who got super excited about November being her birth month and went a little bit extra on the birthday doodles? This girl! November is my favorite month of the year for the obvious reason. For the entire year of setting up monthly bullet journal, I've been waiting for this specific month to come so I can whip out my pens, markers and color pencils in different shades of pink. Besides having my favorite hue as the accent color, my November Bullet Journal Setup is filled with balloons, confetti, gift boxes, and cakes.
If you want to see more bullet journal ideas and inspirations, be sure to visit and follow this Pinterest board which is filled with amazing bujo spreads.
If you've been reading my Bullet Journal Monthly Setup for a while, you might notice that I'm using a different notebook for this month. As mentioned in the last post, I was approaching the last few pages of my old bullet journal. Therefore, I made a migration to a brand new one.
I do have a separate post for the migrating process. However, since I really want to have this November Bullet Journal Setup up on my blog before October ends, that post will be published later. So stay tuned for that!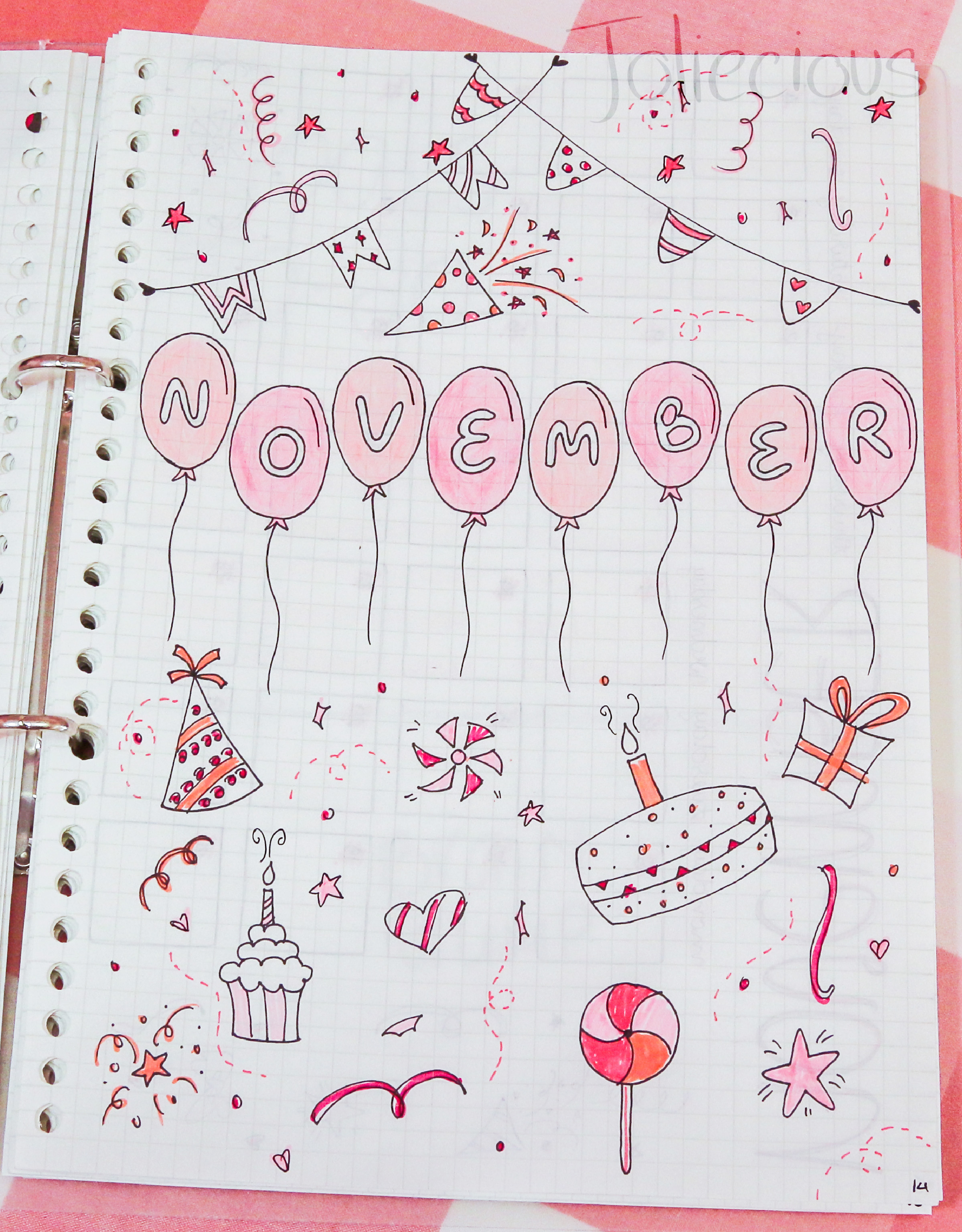 Choosing "Birthday" as the theme for my November bullet journal setup, I decided to fill the Cover Page with many birthday-related doodles. This page was inspired by @amandarachlee's November Plan with Me video, but, instead of birthday doodles, her page is full of drawings of Fall season items.
After a quick search on Google for cute and fun birthday drawings, I had so much fun doodling for this Cover Page.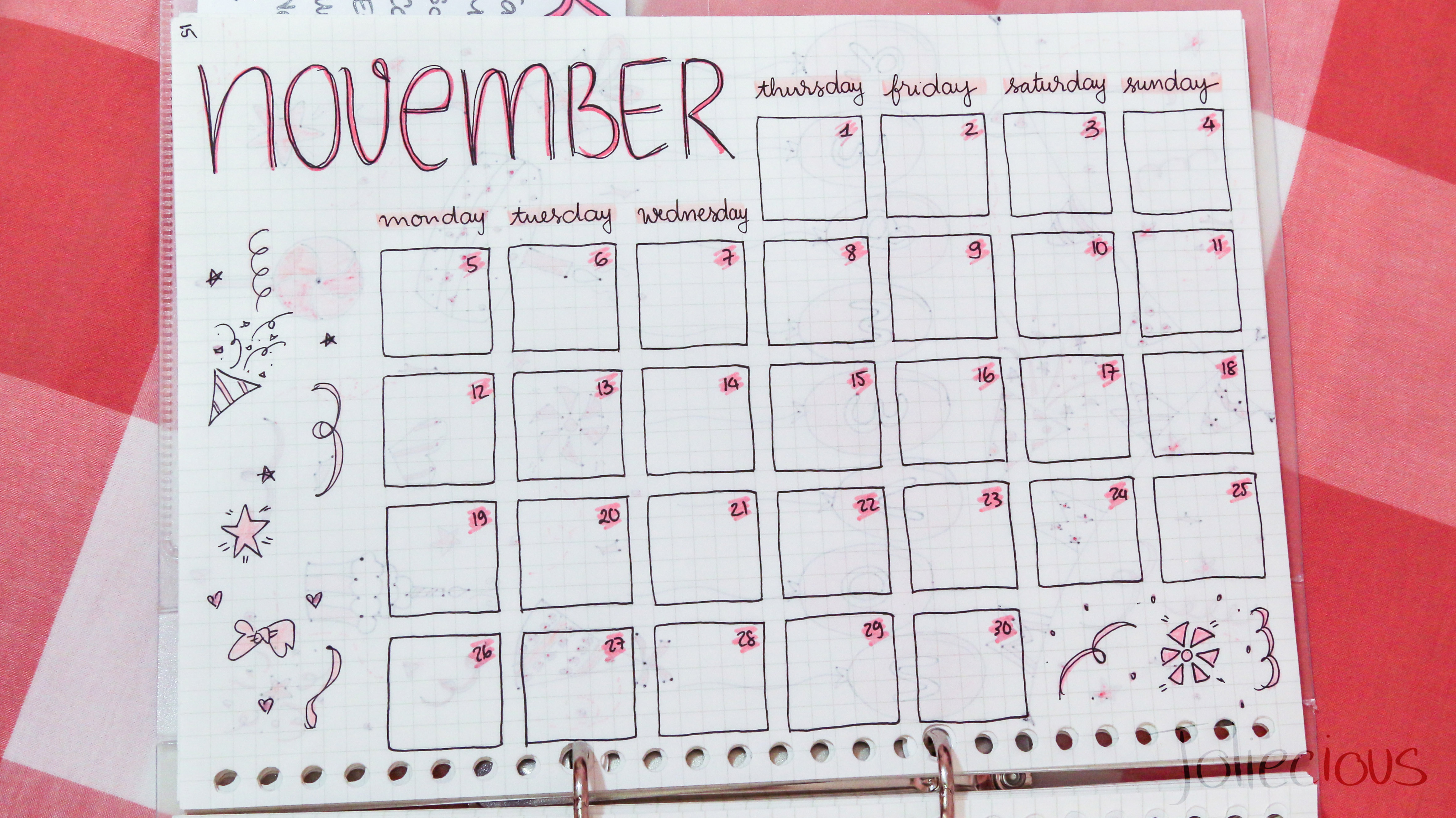 For the Month-at-a-Glance page, I went back to the typical calendar view. There wasn't any specific reason for that. After using the verticle layout for quite some time, I thought it'd be nice for a change. To fill up the blank space, I doodled some more confetti and stars.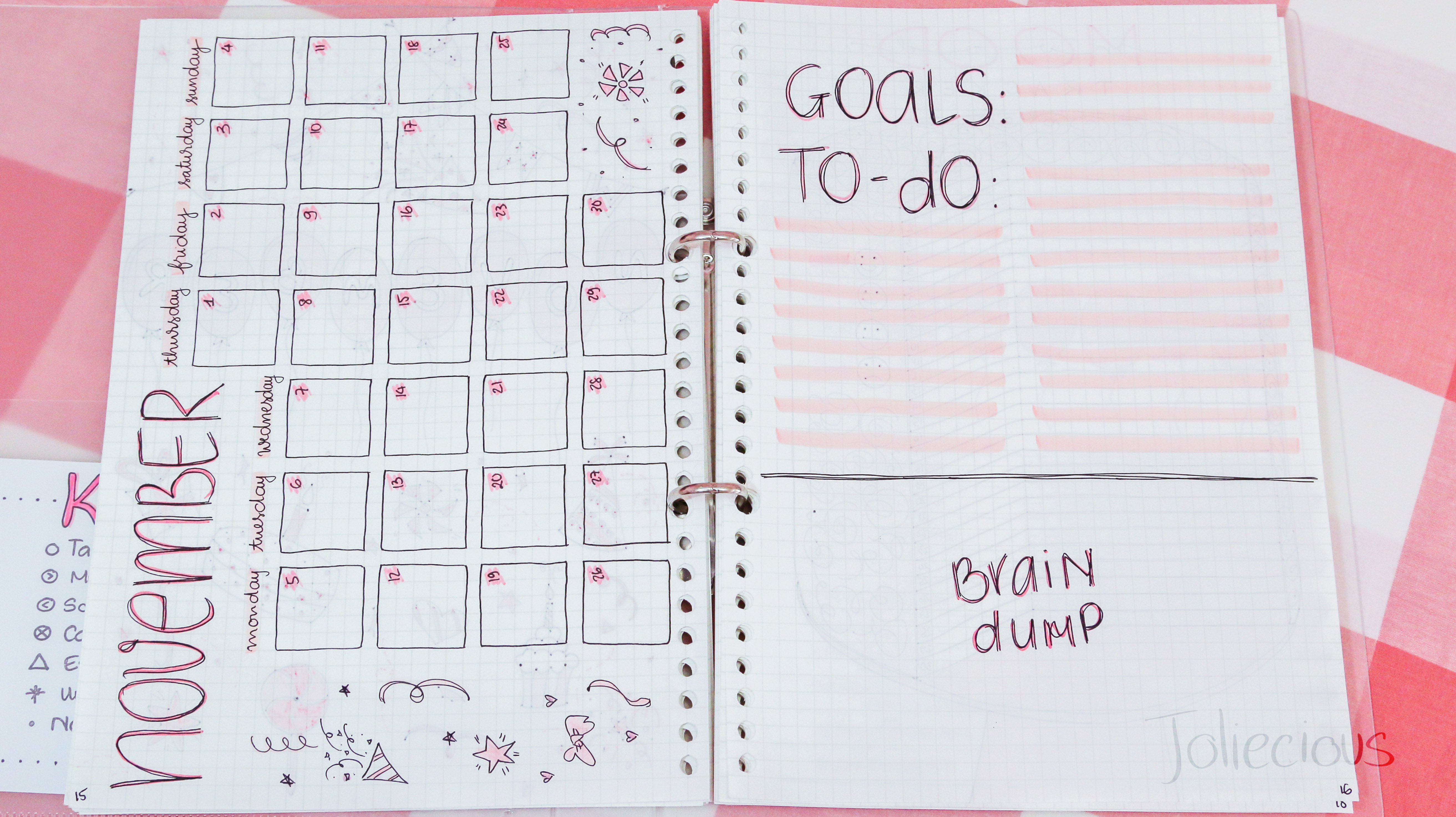 Since the calendar took up the entire page, I used the next page to set up my Monthly Goal, Master To-do List, and Brain Dump area to jot down any notes and ideas I come up throughout the month.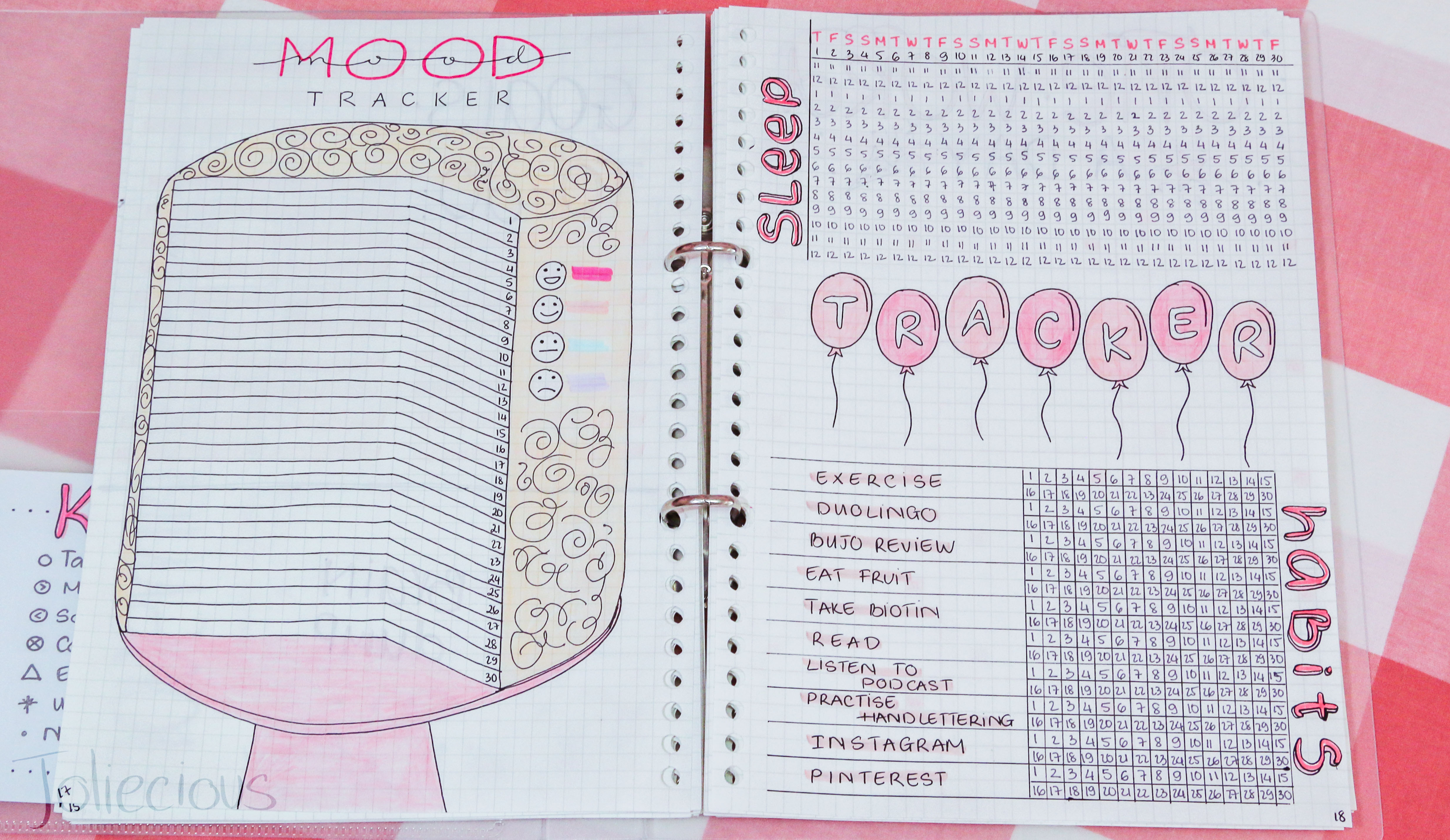 Here comes a new page I added to this month setup: the Mood Tracker. This is my first time including a mood tracker in my bullet journal as I'd never found the urge to track my feelings before. But! Since November is such a special month for me, why not try something new?!
As you can see, my mood tracker is inspired by the rainbow layer cake, except that my cake has 30 layers representing 30 days of the month.  I came up with this idea on a whim as I was scrolling through Google for birthday doodles. Needless to say, this is my favorite page of November bullet journal setup.
On the right-hand side of the cake, the legend indicates 4 different moods I might have on each day. I can't wait to fill in each layer of the cake and I'm sure it'll look so pretty at the end of the month.
Side note: my Bullet Journal Pinterest group board is open for new contributors. If you're interested in joining, DM me on Pinterest.
As usual, I must have my Sleep Log and Habits Tracker. Because the new notebook is bigger than my old one, I was able to fit both of them on the same page.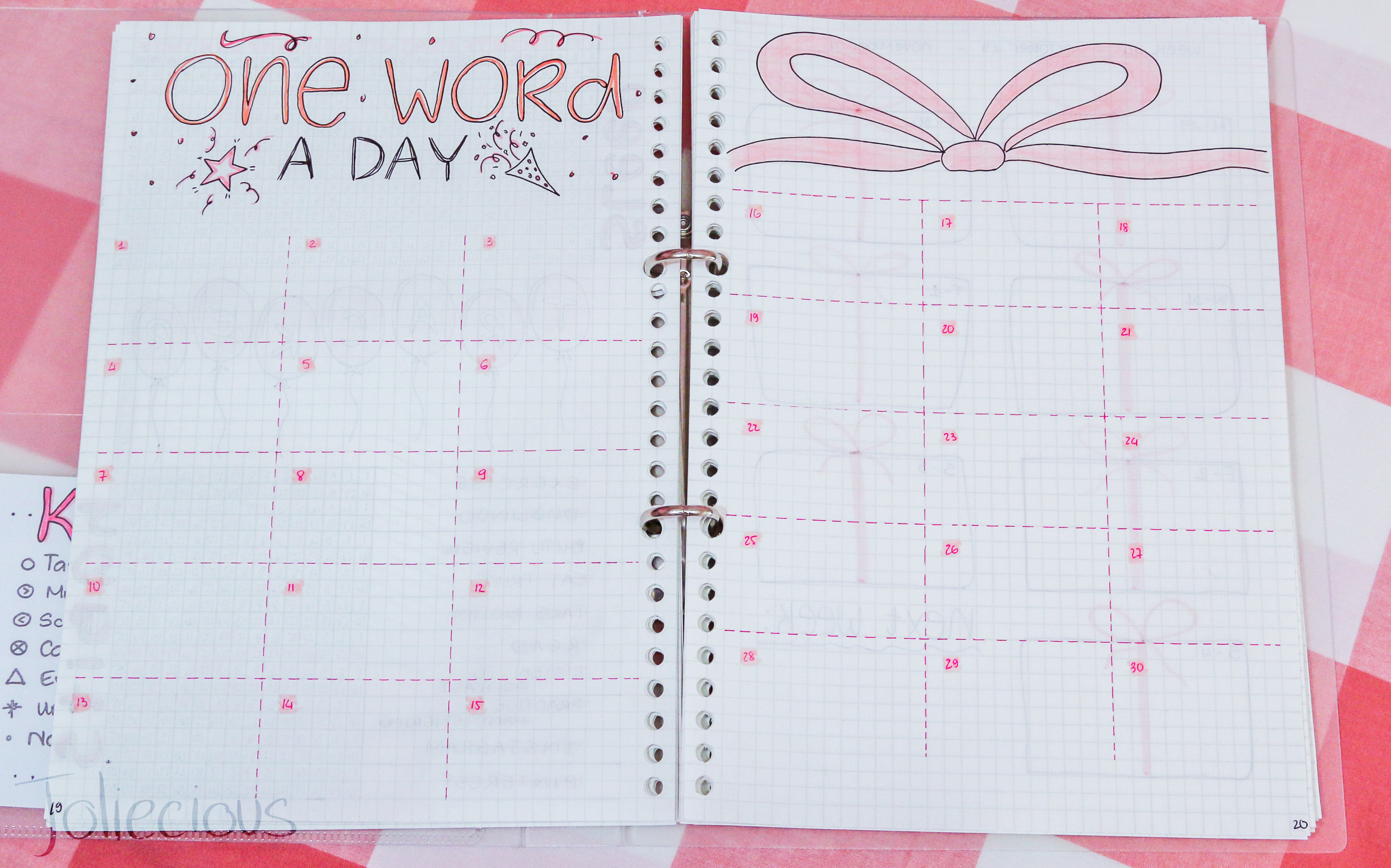 This month, instead of the Gratitude Log, I decided to switch to this One-Word-a-Day page. I first discovered this on @the.petite.planner's Instagram account, but I believe this is a challenge created by Sophie from @phiespoetry. Including this challenge into my bullet journal is a great way for me to practice doodling and hand-letting more often.
The last page I want to share with you is the Weekly Spread. Nothing's new here; this is a layout that I've been using for so many times, and the one I always go back to. It just suits my need well! To spice things up and keep my theme consistent, each day of the week is drawn to imitate a birthday present box.
That's it for my November Bullet Journal Setup. I hope that has been a good read for you. Let me know if you also have birthday theme for your birth month like I do. I'd love to know I'm not the only one.
Don't forget to pin this post for future reference!
Until next time,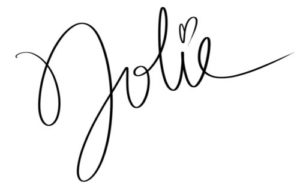 Follow