The last month of 2018 is coming so soon, guys. I was too excited for the upcoming Holidays season that I'd already set up my Christmas tree two weeks ago. Christmas truly is my favorite holiday of the year, with all the festive decorations, charming gifts and happy family time. Hence, I had to go with Christmas theme for December Bullet Journal Setup.
If you want to see more bullet journal ideas and inspirations, be sure to visit and follow this Pinterest board which is filled with amazing bujo spreads.
Let's start with my December Cover Page. When I was setting up my Christmas tree, the most difficult task was choosing ornaments. I couldn't decide what to get; I wanted them all because they are so pretty! My favorite type of ornaments is the clear glass one with different figurines inside. Therefore, I decided to recreate one of them onto this month cover page.
When I was sketching the ornament, I specifically thought about the DIY glass ornament that is made out of a light bulb. Inside, I drew a small Christmas tree standing on top of a pile of snow. I used Crayola color pencils to color the tree and its decorations, and then used a white gel pen to add some snow on the end of the stems. I really like the effect that it created. Lastly, I added Christmas holly leaves around the knob of the light bulb.
Because I want the glass ornament to be the main piece of my cover page, I decided to go with a very basic faux calligraphy for the word "December".
Next, the Month-at-a-Glance.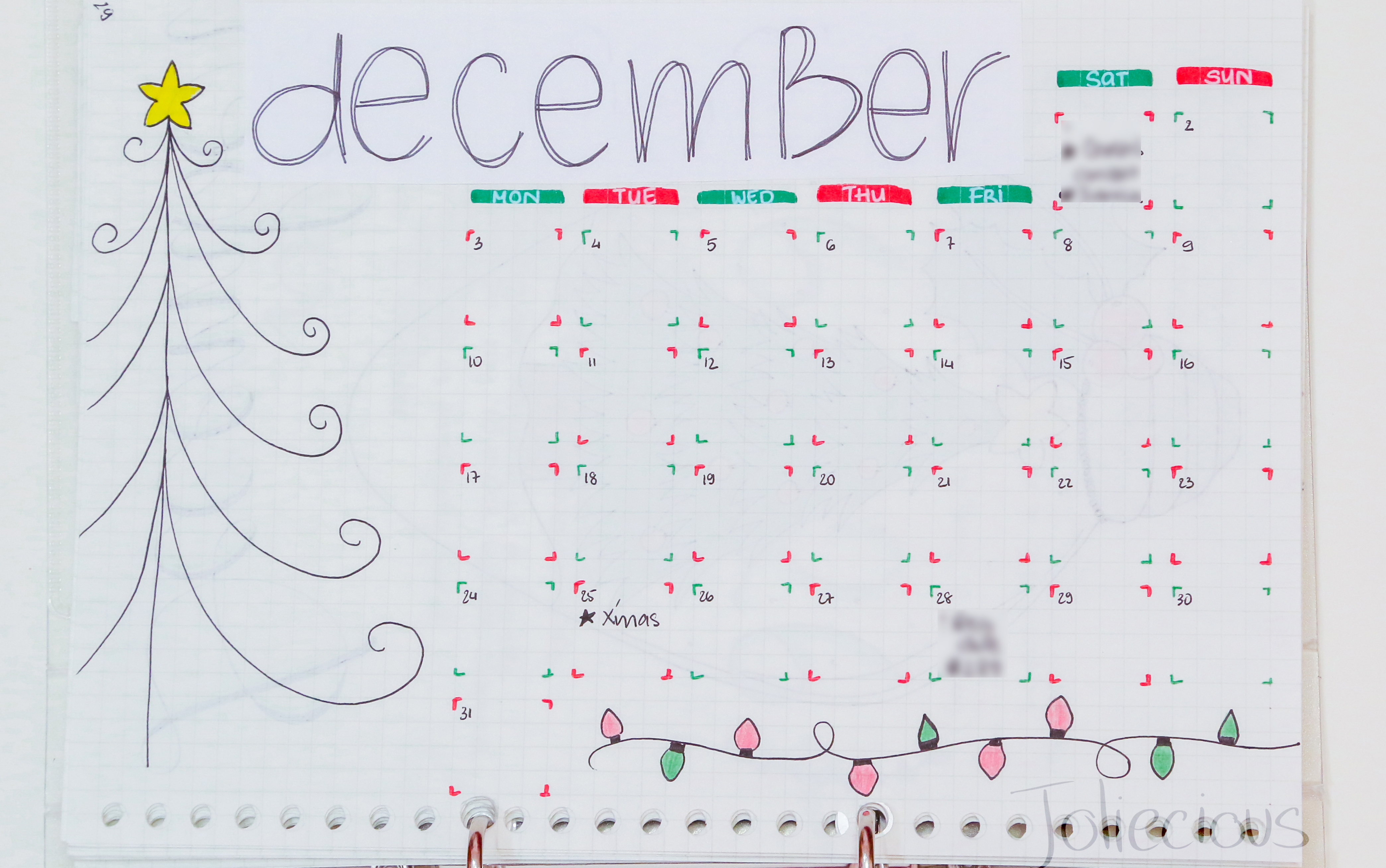 This setup is the same as the one I used in my November bullet journal page. It does the job so I didn't want to make any changes. However, instead of using connected lines to draw the boxes, I only drew the four corners of each box and alternated between red and green fineliners.
To carry out the Christmas theme, I added an abstract Christmas tree on the left space and some Christmas lights.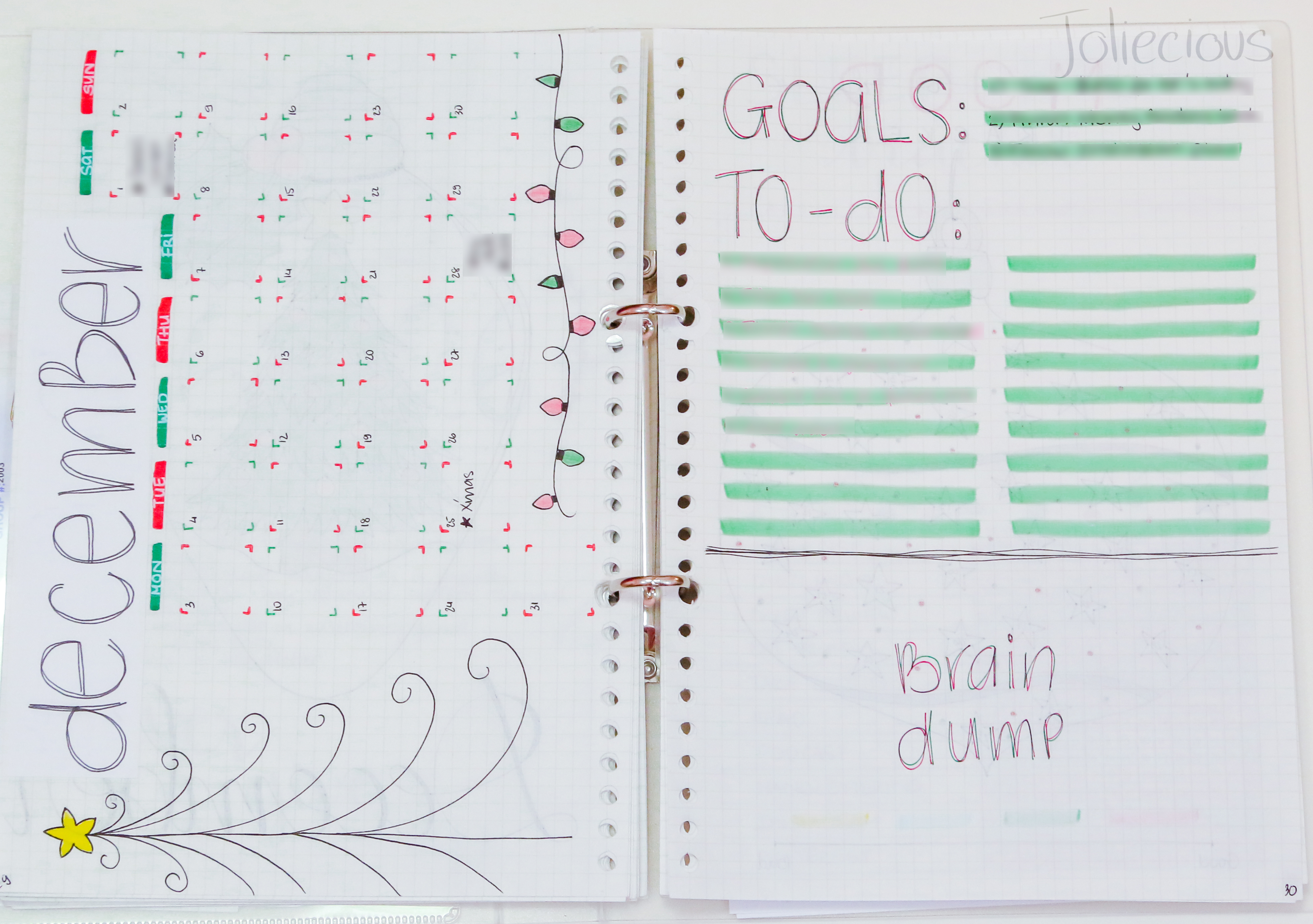 The next page is where I'll write down my Monthly Goals, Master To-do List for the entire month, as well as Brain Dump for random notes and ideas.
Another Christmas ornament! This time is for my Mood Tracker. I started to track my everyday feelings in November and love it. It helps me to stay aware of how my mood is and also reminds me to be grateful that I'm always happy and uplifting. For this mood tracker, I doodled 31 stars representing 31 days of the month on the ornament. At the end of each day, I will be coloring in the color according to how I feel. I'm sure December will be another good month but I'm also very curious to see which color will fill up this ornament.
The next spread in my December bullet journal setup is the Habits and Sleep Tracker. I haven't thought of any new habits to track so I went with the same ones I had for November. What do you usually track in yours?
The next two pages are dedicated to the One-word-per-day challenge created by the talented Sophie @phiespoetry. I've had a lot of fun doing this challenge every day in November so I decided to it again this month. If you want to see my #owpdbyphie, follow me on Instagram @joliecious and check out my Insta Story highlight.
The last page in my December bullet journal setup is the Weekly Spread. I reused the same layout that I've been using for the last few weeks. In order to keep the Christmas theme consistent, I drew a simple Stocking at the top right corner.
I can't believe this is the last Bullet Journal Setup in 2018. One of my goals for this year is to post my Bullet Journal Setups for all 12 months and I'm so proud that I did it. Also, I'm extremely thankful for all of you people on the Internet, who come back and read my bujo setups every month, engage with me on Instagram and follow my Pinterest. I'm so ready for new adventures we'll have together in 2019. Take care and see you in my next post!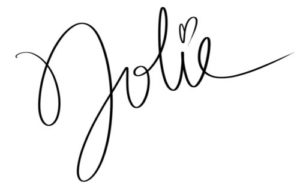 Follow