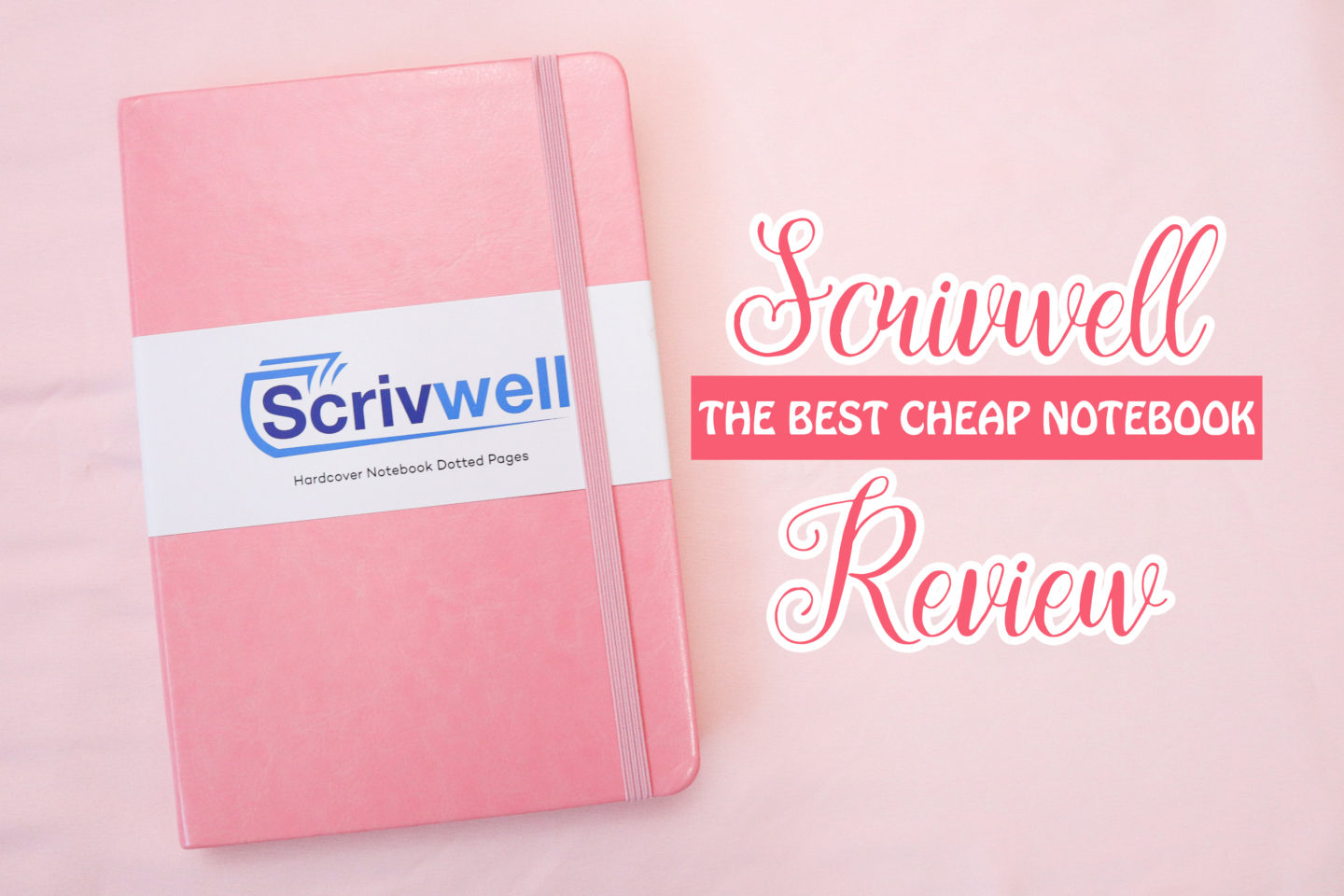 If you're looking for an affordable dotted notebook to bujo, keep on reading to learn more about what I deem: The Best Cheap Bullet Journal Notebook.
This post may contain affiliate links. When you click on any affiliate links, I will receive a small commission at no extra cost to you.
When it comes to bullet journal, it's very important to choose the right notebook for yourself. If you have been reading my blog for a while, you know that I'm an advocate for affordable but high-quality bujo supplies.
When I first learned about bullet journal, the Leuchtturm notebook and the Moleskin notebook were very popular. However, both of them were too expensive for me at the time. Since then, I have made it my mission to find cheaper alternatives that still have the features I need in a bullet journal notebook.
Today, I want to share with you my favorite cheap bullet journal notebook: the Scrivwell Hard-Cover A5 Dotted Notebook.
Scrivwell Notebook's Specs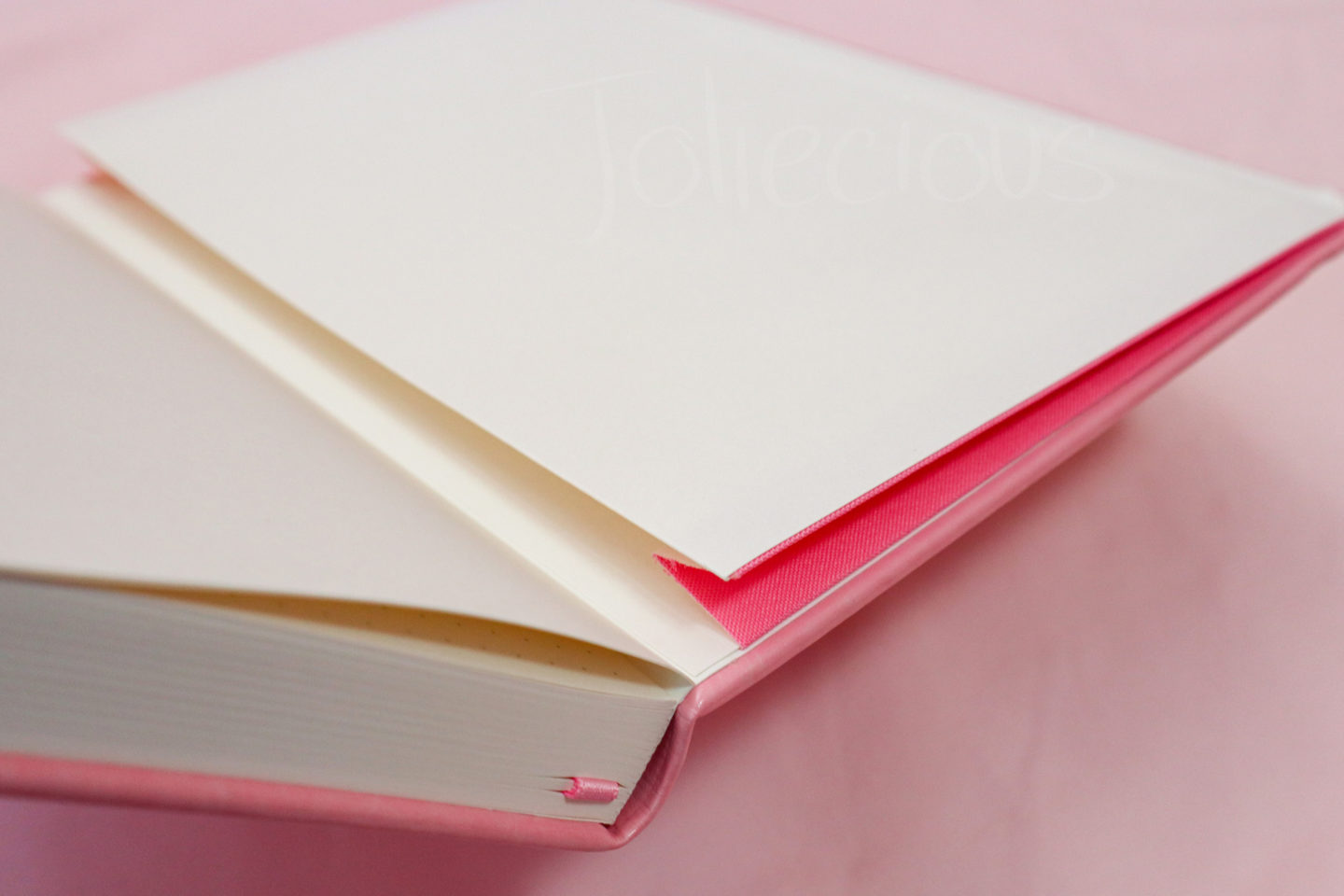 Dimensions: A5 – 5.5 x 8.25 inches
208 dotted inner pages
120 GSM paper
Expandable folder on the back cover
2 ribbon page-markers
Elastic enclosure band
Hard-cover with multiple colors available: black, white, brown, pink, teal, purple, red, yellow and more
Where to Buy Scrivwell Notebook?
From the Scrivwell website itself, these notebooks are listed for $19.99 with free shipping for orders within the United State. However, I've always seen them on sale for $12.99.
If you are an Amazon Prime member, you can purchase the Scrivwell notebook there for $12.99 and free shipping.
Pen Test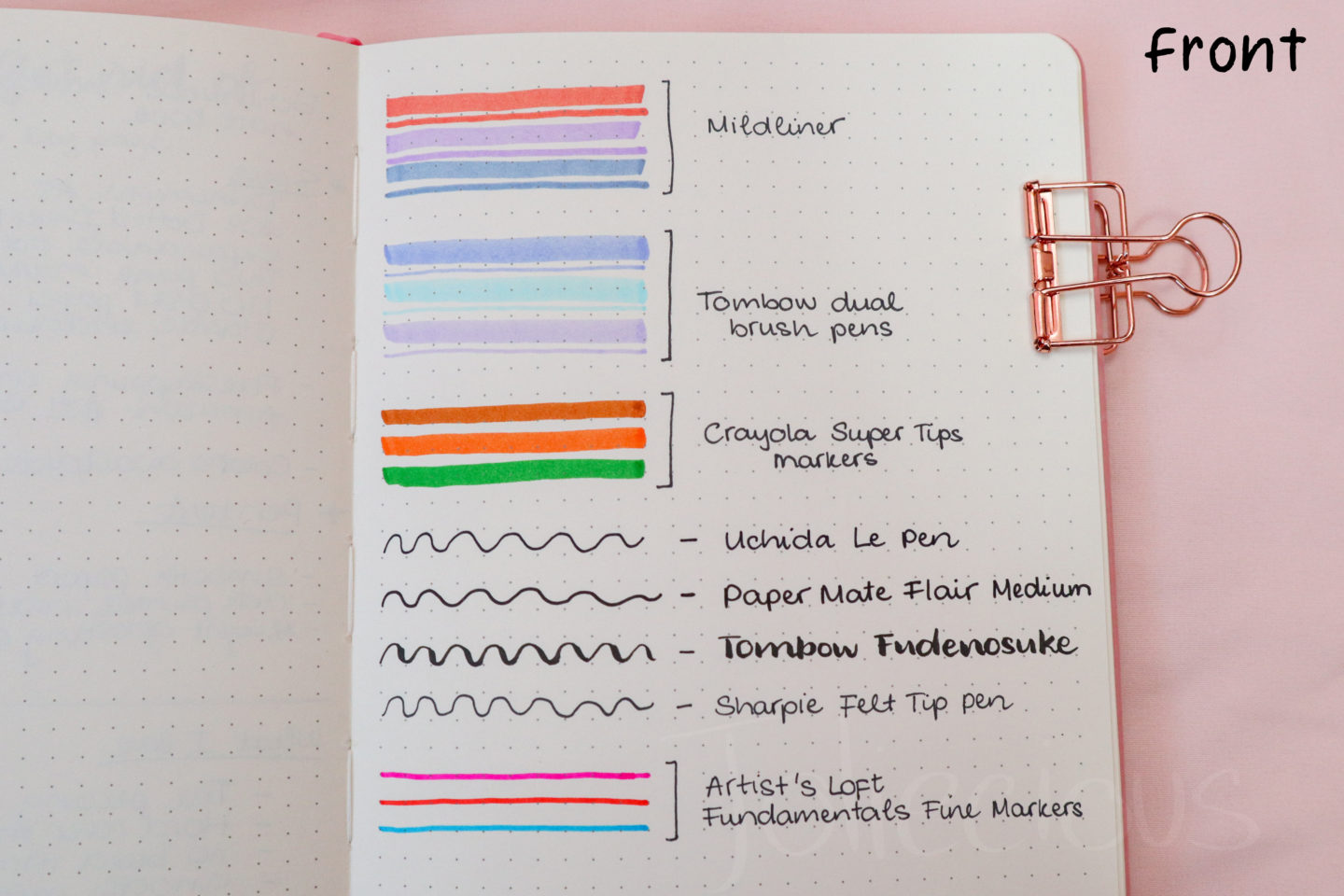 What I Love about the Scrivwell Notebook
The obvious number one reason why I love this note is its price. For $12.99, you'll get 208 dotted pages of 120 GSM paper. That number of pages is a lot more than most popular dotted notebook brands on the market have.
Now, I've never used watercolor in my Scrivwell notebook, so I won't be able to offer you my insight into that department. However, if you look at my pen test above, there is no bleed thru, just very minimal ghosting. And for preference, the Scribbles that Matter notebook (also my favorite) has 160 GSM paper, and the Dingbats one is 100 GSM.
On top of that, the paper is smooth which allows my brush pens to glide on easily. I also love that the dots are printed on nicely without being too dark.
The Scrivwell notebook also comes in so many colors of its hardcover. No matter what your favorite color is, I'm sure you find yours!
And What I Wish It Had
Unlike my other favorite notebook, the Scribbles that Matter, which has a few pre-printed bullet journal pages such as key and index, the Scrivwell notebook doesn't. I also miss the pre-numbered pages.
In addition, if you're someone who travels around with your bujo and enjoys having a pen loop to hold your pen, you might be disappointed to learn that the Scrivwell notebook doesn't have a pen loop as well.
Overall,
I love this notebook and would recommend it to anyone. And for the price and the paper quality, a few missing features don't bother me much. If you're still deciding whether or not you should try the Scrivwell notebook, here is a summary of my review.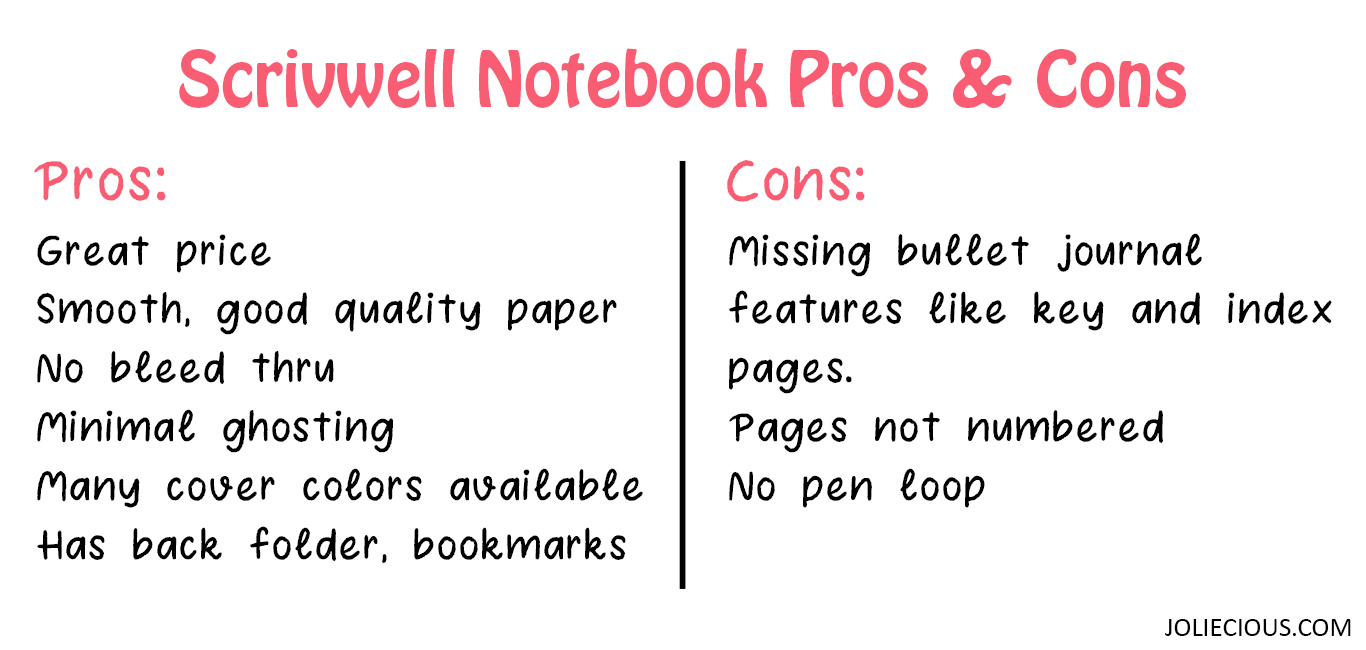 So, will you give it a try?